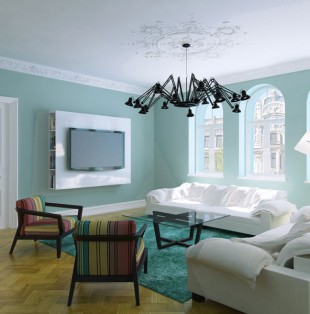 Quiet Center apartment
The interior design of the apartment on Alberta street in Riga
The concept of the interior
This apartment is located in a historic building of the Art Nouveau era in Alberta Street. This area is called the Quiet Centre of Riga; the majority of development of the area is dated to the late 19th and early 20th century. Here are the best objects of historical property presented, including residential one. The owners of the apartment are vigorous business people, but at the same time, the aesthetes and collectors of the modern paintings. This apartment seemed to them to be a viable frame for the part of their collection.
The task assigned to the designer, was as follows – to underline the advantages and historical value of the apartment as much as possible, at the same time, not to turn it into a museum of Art Nouveau era. Therefore, in the stylistic solution of the interior there are harmoniously combined, on the one hand, the historical architectural elements, such as authentic mouldings, doors and wall panels, and on the other hand – the ultra-modern furniture and decor items.
Function
Within the scope of the interior design project the following premises were decorated – the lobby and the hallway, the living room, the dining room, the kitchen and the bedroom. In the living room a group of upholstered furniture, consisting of two Diesel sofas, two armchairs and a coffee table, facing the TV, mounted on a white glossy panel with built-in shelves. The fireplace is located in the corner of the room, and the walls are decorated with the works of contemporary Latvian artist Ritums Ivanovs.
The living room is combined with the dining room with the wide opening made of wooden panels. Here the Missoni carpet is shaded by the minimalistic Ligne Roset furniture.
In the kitchen an interesting approach for furniture arrangement is used – no linear worktop solution. The main action is at the central element, the so-called "island" the access to which is provided from all the sides. The storage is provided by a line of high built-in cabinets installed along one of the walls, which also houses the built-in appliances.
Colours for the interior
The historically used interior colours served as a basis for the colour solutions – natural colour oak parquet, pale mint green walls, white ceilings, mouldings, baseboards, window frames. The white colour and vibrant colour accents are widely used in the interior. More saturated emerald hue is used for the kitchen walls.