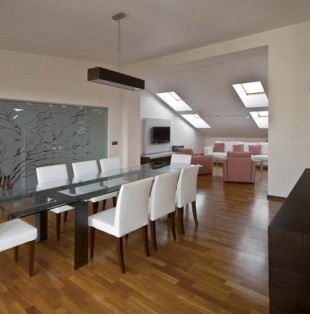 Mansadra apartment
Interior design of mansarda apartment in Riga
Concept
The apartment, fro which the interior design was developed, is located in the attic of the apartment building in the historic district of the city. Therefore, the starting point for the interior design of these premises was the theme of the sky, or rather even tree branches against the sky. This theme has been beaten as in the finishing material (a lot of the elements of wenge colour), so in the decorative design (painting, design of the front door into the living room). The general style of the apartment can be defined as urbanism. This is a modern sleek style, which at the same time creates a cosy and homely atmosphere. A large number of natural materials, bright pastel colours and shades give this interior light and transparency.
Function
The presence of large areas allowed us to identify all the functional areas in the individual rooms. The apartment has a large front hall, living room and dining room combined into one room, but visually separated with structural elements. The master bedroom is connected to the dressing room and large bathroom with double whirlpool bath and natural light. The quest bathroom goes out into the hall, and is finished with glass mosaic. Large kitchen area allowed us to place there not only all necessary kitchen equipment, but also the bar and a small dining table for 4 people. Having moved the door in the guest bathroom into the living room we received the opportunity to arrange a large dressing room in the hall. Colour solution Colour solution in the apartment was taken on the basis of a shared vision and style solutions. Basically these are the colours of natural wood (cherry, bleached oak, wenge), as well as the muted pastel shades for the wall design and textile. In the design there is widely used white colour and frosted glass, which gives the interior transparency and atmosphere.
Finishing materials
Floors – parquet Golvabia Cherry lacquer. In the master bedroom, dressing room and the guest bedroom – Donau Warant White Oak. In the kitchen – Fibra Grey tile 60×60 manufactured by Atlas Concorde. In the bathroom – a collection of ceramic tile Ruad Beige manufactured by TAU Ceramica. In the guest bathroom – a collection of ceramic tile Quatrtieri New manufactured by MARAZZI, and mosaic REVIGLASS Mango
Walls – decorative plaster imitating Venetian plaster in various colours.
Ceiling – plasterboard painted matte white paint
Door – wenge, frosted glass
Freestanding furniture. In the living room there is used BONTEMPI furniture made of white painted glass in chrome profile. In the bedroom there is Italian furniture FLOU of wenge colour, in the guest bedroom – FLOU furniture of bleached oak colour. In the kitchen there are maroon mat facades, countertop made of grey granite, also is used bleached oak.
Furniture – in the living room there is POLARIS Midway sofa made of white leather.
Plumbing. In the master bathroom –JOIN collection manufactured by IDO, PAA bathroom. In the guest bathroom –Mylife collection manufactured by LAUFEN. Faucets and shower system GROHE.