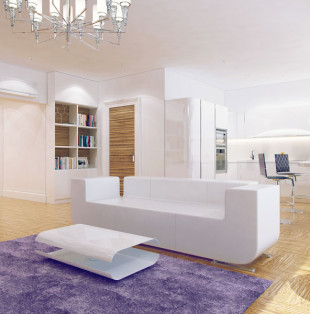 Apartment in Jurmala
Interior design of an apartment in Jurmala
Concept
Developing interior of this apartment it is required to take into account some restricting factors. The customer purchased the apartment with finished decoration work that is why change of planning, material of flooring or donors was impossible. Likewise it was required to introduce some furniture elements, which were already purchased for this apartment. This way the interior work was more like decoration. The wall color was changed, lamps, furniture elements and textile were chosen.
The general interior mood is modern city style, which is called urban as well. Some art deco style decors are seen in the design of furniture and lamps.
Function
The apartment has all the necessary things for living of 3 people – a kitchen and dining room, which slowly flows into a sitting room, two spacious bedrooms, main bathroom with illumination of good quality and additional bathroom unit at the entry. Sauna, as well as a big Jacuzzi, was built in the main bathroom. Unfortunately, the wardrobe is not provided for in the apartment; however, its absence is solved by organizing of large wardrobes in different spaces.
Interior's color design
This interior is made in fresh hues. Grayish beige is taken as the basis for the walls in all rooms; the highlights are created with textile and accessories. This color in the sitting room is aquamarine, which appears in embroidery of curtains, scatter cushions, as well as in silk carpet on the floor. Much white color and linen textile is used in the main bedroom, which allows creating tranquil and relaxing atmosphere. The second bedroom is more dynamic, black-and-white combination is used there.
The main bathroom is designed in combination of white marble and African oak. And the guest bathroom unit is designed in the range of mint green color with metallic highlights.