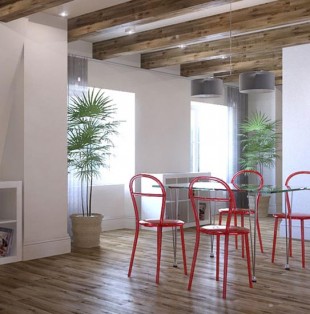 Apartment in Ventspils
Interior design of the mansarda apartment in Ventspils
Interior concept
The apartment occupies the entire third floor of a historic building in the heart of Ventspils. It seemed natural to try to keep the harmony of the interior and architecture of the building. However, the customers are fans of more modern style. The problem was also complicated by the small height of the apartment and the need to leave in the interior the wooden roof construction, which were cleaned and covered with a special varnish. Thus there appeared a mixed style – elements of classic and contemporary with a little spirit ofProvence. This style as well as the unique arrangement of windows in the living room (three walls) makes the apartment bright and cosy even in the cloudy weather.
Function
The apartment has turned a two-room – a separate bedroom and a large room with combined living and dining room with a large dining table, kitchen relegated to a niche in this room. The apartment also has a lobby, two dressing rooms (one in the bedroom and one in the hallway) and a bathroom. Thus we provided all the areas necessary for comfortable stay of two people.
Colours solution of the interior
It was decided to maintain the colour of the wooden beams, using on the floor oak parquet of similar shade. Walls and ceiling in the apartment are white, the same colour are the plinths. Thanks to the neighbourhood with warm natural wood colour the white colour does not look cold and grey. The interior is enlivened with furnishings and details of black and red colour – dressers, chairs, armchairs. Sofa and curtains on the windows are if neutral warm grey colour made of linen.
Interior lighting
Attic lighting is always a difficult task, and in this project the height of the roof and its structure created additional inconvenience. General lighting is decided by external halogen lamps in white colour and accent lighting above the dining table and in the zone of the living room. Comfort is created by table lamps on bedside lockers and torch ere in the living room.