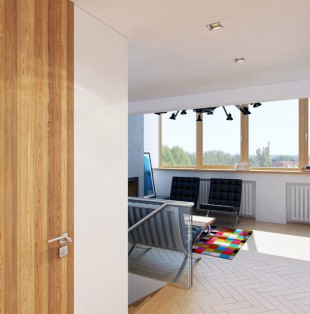 Loft style apartment
Interior Design maisonette style loft
Interior concept
The apartment is located in the attic room of the apartment house, which has previously been intended for the artist's studio. For this reason the premises have high ceilings, allowing a second level. Panoramic windows of the two walls allow a huge amount of natural light, which was taken into account and as much as possible is supported by the interior solutions. The apartment is decorated in an eclectic style with a good dose of irony – for example, one of the walls painted black, and lines from a customer's favourite songs are written in gold over it.
Function
The first level is divided into three zones. In the central part there is the entrance to the apartment, the bathroom and the cloak room. To the right of the entrance – a zone of kitchen and dining room. The kitchen with the construction of the "island" divides the space. To the left of the entrance there is a living room area with a fireplace. Here is the stairway to the second level, where there is the bedroom and the workplace.
The apartment has only 3 doors – the entrance door, to the door to the cloak room and to the bathroom. All other rooms are separated only functionally.
Interior colours
Despite the fact that the basic colours of the interior are white and black, it has turned out warm and cosy. This is largely achieved through the oak parquet on the floor – it gives a warm honey shade feeling of the sun throughout the interior. The ultra-fashionable multi-colour accents are also contributing to the cosy feeling – a chandelier and a table in the dining room, a carpet in the living room, a headboard and a pouf in the bedroom. This method, when all colours of rainbow are mixed in one element is called a multicolour.