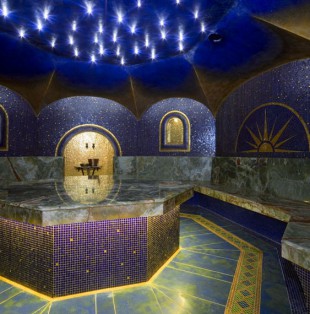 SPA in Jurmala
Interior design fort SPA complex in Baltic Beach Hotel in Jurmala
Function
The Spa complex to be reconstructed is situated in the Baltic Beach Hotel on the ground floor and occupies approximately 600 m2. Here are the common areas (the entrance lobby and reception desk, wardrobe, women's and men's locker rooms with showers and toilets), the actual SPA complex (the hall with a pool and a bar, the Charcot shower, the Rasul, the Amber sauna, the Turkish bath, the wooden sauna, showers and massage rooms ), as well as auxiliary facilities.
In the process of designing the interior design space planning has been substantially modified to provide a functional scheme of the complex, as well as a convenient and safe use of it.
Interior concept
In developing the style of the complex as a basic concept was chosen the image of the Garden of Eden. This is reflected also in the new name of the complex – The Garden.
Most of all, this image manifested itself in the hall with a swimming pool, where there was vertical gardening with plants, a chain with Swarovski crystal above the pool (an imitation of a tropical rain), also in the finishing of walls and floor tiles in sand-colour with splashes of green mosaic. The large swimming pool and Jacuzzi echo the colour of the facade of the bar stand, where the water-bubbling panel is built with LED backlight. The bar stools with a special design made by the French company Acrila.
The entrance area is made in a luxurious and glamorous style, using white and gold with black accents. The gold mosaic, honey onyx backlit and a large number of crystals in lamps were applied, which were made to individual order. One of the entrance units is decorated with an exclusive wall decoration made of natural marble with a picture of humming birds. In this zone the glossy black ceilings were used as well.
The locker rooms were resolved in light colours – a white floor and pearly walls. The mood to the interior is added by colour accents, a pink tint in the female rooms and a green tint in the male compartment. The colour appears in the crystal chandeliers, mosaics on the floor, as well as in the original chairs that are specially ordered for the interior.
Baltic Beach Hotel SPA zonas interjera dizaina projekts Jūrmalā
Funkcija
Rekonstruējama SPA komplekss atrodas Baltic Beach viesnīcas cokola stāvā un aizņem aptuveni 600 m2. Tā ietilpst gan koplietošanas telpas (ieejas halle ar recepcijas leti, garderobe, viriešu un sieviešu ģērbtuves ar dušām un tualetēm), gan pašu SPA kompleksu (baseina zāle ar bāru, šarko duša, Rasuls, Amber sauna, Hamams, Old Wood sauna, dušas un masāžas kabineti), gan vairākas palīgtelpas. Interjera dizaina projektēšanas laikā telpu plānojums tika pamatīgi izmainīts, lai nodrošināt kompleksa funkcionālo shēmu, kā arī ērto un drošo lietošanu.
Interjera koncepcija
Izstrādājos kompleksa stilistiku par pamatni tika izvelēts Edenas dārza tēls. Arī jaunas kompleksa nosaukums tika izvelēts atbilstoši – The Garden.
Visvairāk šī koncepcija ir atspoguļojies baseina telpā, kur parādījās vertikālais apzaļumojums ar dzīviem augiem, Swarovski kristāla ķēdītes virs baseina (lietus imitācija), kā arī grīdas un sienu apdarē ar smilšu krāsas flīzēm un zaļajām mozaīkām. Lielais baseins un burbuļu vanna sasaucas pēc krāsas ar bāra letes fasādi, kurā ir iestrādāts ūdens-burbuļu panelis ar LED apgaismojumu. Bāra krēsli ir pasūtīti ar speciālo dizainu no franču kompānijas Acrila.
Ieejas zona ir izpildīta vairāk greznības un glamura stilā, izmantojot balto un zelta krāsas ar melniem akcentiem. Tika izmantota zelta mozaīka, dzeltens onikss ar apgaismojumu un daudz kristāla lampas, kas tika izgatavotas pēc individuāla pasūtījuma. Vienā no ieejas mezgliem ir izmantots ekskluzīvais sienu dekors no dabīga marmora ar kolibri putnu motīviem. Šajā zonā tika arī izmantoti melnie glancetie iestieptie griesti.
Ģērbtuves zonas ir atrisinātas gaišajā krāsu gamma – balta grīda un perlamutra sienas. Noskaņu interjeram piedod krāsainie akcenti, rozā tonis sieviešu ģērbtuve un zaļa vīriešu. Krāsa paradās lustras kristālos, grīdas mozaīkā un arī oriģinālajos krēslus, kurus speciāli pieskaņoja interjeram.