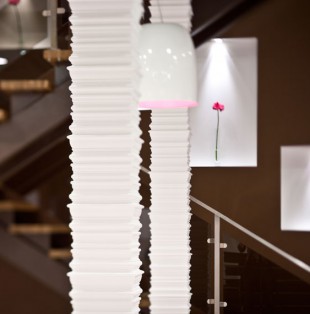 Shoe shop Lota
Shoe shop Lota interior design in Ventspils
Concept and stylistics
The scope of the project envisages the development of a full interior design of footwear shop on two levels. The shop is located in the historical part of Ventspils, in the building being an architectural monument. Therefore the strict requirements of the State Inspection of Heritage Protection and the Architecture Board shall be followed during the implementation of the project.
Eclectic stylistics was chosen for this Project – symmetry in the space composition, classic elements in the architecture of premises, for example, panel doors and decorative cornices. However furniture and light fixtures were selected in more contemporary style that on the one hand are more suitable for the functional role, and from the other hand makes the interior more dynamic and emotional.
Colour solutions
The interior colour solution is rather neutral –the combination of brown and white shades. However the accents of fuchsia colour – the puffs and the light fixture elements bring certain expression in the interior.
Finishing materials
Floor – Caledonia ceramic granite produced by company Ceramika Paradyż and brown colour glass mosaic.
Ceiling – painted in white and BaltPrestige glossy stretched ceiling painted in colour of milky chocolate.
Cornices, baseboards, column finishing – Orac Axxent polyurethane moulds painted in white colour.
Doors – wooden panel donors painted in white.
Furniture
All furniture for this project is custom made. The main types of finishing – Wenge laminate (wood imitation in the colour of bitter chocolate) and white laminate with minimum texture. Fumed glass, mirrors and metal inserts are used as well. All hardware and metal elements are chrome.
Lighting
A special lighting design was developed for this interior that made it possible to calculate the necessary amount of light and to select the light fixtures that would at maximum suit the needs of the interior. For technological lighting the spotlights have been chosen in order to direct the light on exhibition shelves, and also the built-in lighting appliances. Notte Metal chandeliers manufactured by company Prandina were used as decorative and accentuated lighting. Their metal casing is painted in glossy white colour from outside and in fuchsia colour from inside thus matching the puffs and provides additional emphasis in the interior.