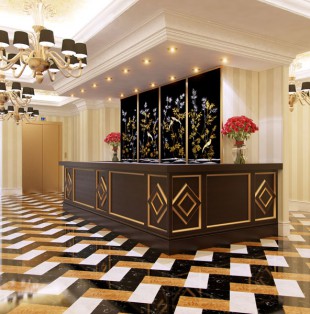 Hotei interior in Moscow
Interior design of a hotel in Moscow
Concept
A small hotel complex with 6 rooms is located in the housing complex "Triumph Palace" on one of the upper floors. This defined the interior style, art deco is its basis, and the Chinese style elements bring the color to it. Furniture of the brand Christopher Guy was widely used in the project, which balances elegantly between art eco and glamour.
Function
Within the project the interior design of the hall with a reception stand and waiting area, as well as one standard room consisting of a sitting room, a bedroom and a bathroom was developed. Recreation and TV area and working area with a desk separated with decorative screen is provided in the sitting room.
Interior's color design
The color solution in the hall is built on contrast combination of colors of Champaign, black and gold.
Similar combination is used in the room – more subdued color of walls, color of bitter chocolate of the floor material (Wenge), of doors and furniture structures. Saturated red is used for highlighting, which brings the Chinese element. It appears in the sitting room as a carpet, as well as lamps and decor elements. The red color is used in the bedroom in the material of wall finishing; these are wallpapers of the English company Sanderson. Honey yellow onyx was used in the bathroom for wall design, which creates feeling of comfort and luxury thanks to the saturated color and unique texture. Mosaics Sicis of hand assembling was used as addition on the floor.