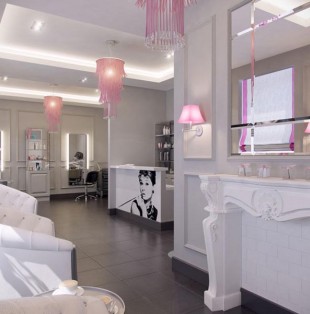 Beauty salon
Beauty salon interior design in Ventspils
Interior concept
Beauty Salon is located on the first floor of a historic building in the heart of Ventspils, so it was decided to use in the interior design the elements of classic style. Those were panels on the walls made with the help of polyurethane moldings, furniture and decorative fireplace at the entrance and wall lamps (sconces). At the same time, most of the furniture belongs to the purely professional hairdressing accessories, so the interior can not be called absolutely classic. The unifying element is the chandeliers – they are classic in its structure, but their design and material (rubber tubes) are modern.
Colors for the interior
For the interior design there were chosen corporate identity colors – graphite gray floor, silver-gray wall and cold-pink for accents in fixtures and decor elements. Also there is a lot of white in the interior – Roman blinds, upholstered furniture with leather upholstery and decorative fireplace.
Interior lighting
The interior of beauty salon has its own specifics, including the choice of lighting. Adequate level of illumination is provided by fluorescent lights, hidden behind the cornice of the ceiling panels. Built-in halogen lamps with a capacity of 75 watts provide directional lighting in the workplace of hairdressers. A chandelier and sconces give the interior comfort.