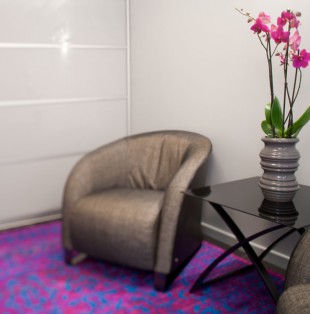 Dental clinic interior
Interior's design of a dental clinic
Concept
Within the given project it was required to develop interior of the dental clinic. The task was to make the interior modern, stylish and cozy, to forget about policlinic-and-hospital associations. It was decided to achieve the set goals by unusual illumination and elegant furniture and decor objects.
Function
The clinic consists of the reception with an administrator stand and a recreation area with two chairs and TV, as well as two procedure rooms and auxiliary premise. In order to get the daylight to the procedure rooms (they have no windows), the door was made of frosted glass with design on it imitating classic paneled door.
Interior's color design
For this interior grayish white color range with bright lilac and crimson highlights was selected. These were the mirror frame and the spectacular carpet with silken pile, as well as elements of house style and fresh flowers.
Interior illumination
In this project interesting and uncommon lamps were applied. The reception area has a set of two ceiling plafonds and a lamp with cut-glass pendants. The form of pendants almost perfectly replicates the form of root canal filling, although this association is clear exclusively for the professionals. The hallway area has wall fittings made by the Belgium Company Delta Light, which create unusual light image on the wall and the ceiling.